AirPrint can be accessed in the browser Safari, Mail, Camera, Photo, Maps and many other applications.
To send an item for printing, click the application icon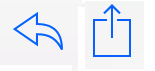 and then click "Print" or the printer icon.
In order for the AirPrint function to work, it is necessary to be in the same Wi-Fi network with a printer that supports AirPrint or a computer with special software installed and a printer connected to it.
Did my article help you? How about buying me a cup of coffee as an encouragement? Buy me a coffe.